"THE ULTIMATE" CLEANER & DEGREASER (by BIM 200™)
General purpose cleaner and degreaser that uses natural enzymes to bust up stubborn hydrocarbons.
What does it do?
BIM200™ cleaner and degreaser is an effective, environmentally safe and fast way to clean oil, grease & fuel spills, splashes and stains. Its versatile applications help clean the toughest penetrating stains on many surfaces while digesting hydrocarbons. BIM200™ sets a new standard for cleaning and deodorizing hydrocarbons by combining the power of microbes with a unique surfactant system that is approved as biodegradable and environmentally friendly. BIM200™ is the product to clean up oil and gas spills, grease stains, motor oil, diesel, fuel and hydrocarbons. Use on trucks, cars, heavy equipment and agricultural equipment. Ideal for furnace oil leaks and spills in the home, workshop, garage floor and driveway. Use for emergency applications after accidents to quickly clean up oil and gas spills. Ideal for mechanical shops, manufacturing facilities and garages where oil and fuel stains are frequent. Penetrates tough stains on porous surfaces such as concrete and brick.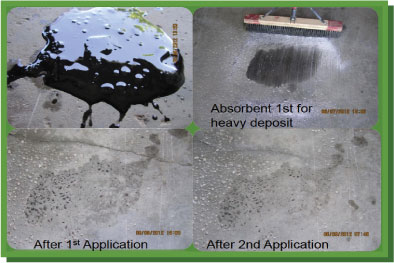 Where do I use it?
General purpose cleaner and degreaser that uses natural enzymes to bust up stubborn hydrocarbons.
Sizes Available
500 mL (1 pint) bottle
1 L (1 quart) bottle
4 L (1 gallon) jug
20 L (5 gallon) jug
200 L (55 gallon) drum
1000 L tote
SHAKE WELL.
MIX WITH WARM WATER. USE WITHIN 24 HOURS AFTER MIXING.
Mix 1 part BIM200™ to 10 parts water. Spray or pour on area to be cleaned and scrub with broom or bristle brush. Allow product to stand minimum 5 minutes, longer for heavy stains.
For best results scrub before rinsing. Rinse with cold water. Repeat if necessary.
Since old soil and gas spills can penetrate deep into porous hard surfaces, several cleanings may be necessary to completely remove old stains. Due to products ability to remove hydrocarbons, it is recommended to not use on asphalt surfaces more than twice a year. If surface shows signs of deteriorating discontinue use.
Storage and handling
PRECAUTION: KEEP OUT OF REACH OF CHILDREN. Always test on small area first before use on any surface. Do not mix with any other cleaner or degreaser. For most effective use; store between 10º C and 32ºC. Keep out of sunlight. Do not swallow or get in eyes. Do not breathe fumes and keep area well ventilated during application. Handle with care. Wear rubber gloves an safety glasses when handling. Wash hands thoroughly with warm, soapy water after contact.
Product Certifications
Health Canada Registration
EcoLogo Certification
Some of our products carry the EcoLogo and UL certifications. Golden Environmental Products Inc. is a member of the USGBC and certain products can help earn points in the LEED rating system. Please see individual product pages for more info.
© 2014 Golden Environmental Products Inc. All rights reserved.