Organic Fluid Solidifier
This unique granular solidifier quickly absorbs and solidifies body fluids and organic fluids such as blood, urine, vomit, feces and mucus and assists in the elimination of odor at the same time.
What is it?
GOLDEN ENVIRO ORGANIC FLUID SOLIDIFIER is a product that will not only solidify all body fluid material but also is treated with an all natural Thyme oil that is generally considered safe (G.R.A.S.) by the USA Food and Drug Administration.
Where do I use it?
Sprinkle ORGANIC FLUID SOLIDIFIER as needed over fluids and other spills until all liquid is encapsulated. ORGANIC FLUID SOLIDIFIER can be used to clean up blood, urine, vomit, feces and mucus, as well as other organic fluids. This airtight container should only be opened when used, as this product will lose its effectiveness if exposed to air. The product should not freeze and should be stored at room temperature.
Ideal for use in:
Health Care Facilities, Hospitals, Assisted Living;
Extended Care, Dental Offices, Veterinary Clinics
Public transportation (buses, taxi, trains, limousines);
Public restrooms;
Office Buildings;
Hotels and Resorts;
Amusement Parks;
Campgrounds;
Schools;
Special needs applications;
Restaurants or Nights clubs
Any place where accidents happen!
Features and Benefits
Ease of use and safe disposal makes GOLDEN ENVIRO ORGANIC FLUID SOLIDIFIER a smart solution.
Encapsulates fluids and eliminates odours
Cleans surface area
Will not leach or biodegrade
Dust free and light weight so easy to handle
High performance at the lowest cost; absorbs 6:1 over clay based absorbents
Contains no known carcinogens
Non-toxic Easy and safe to use
Dense but not heavy so it costs less transport
Leaves no residue that could lead to slips or falls
Save time and money cleaning up organic fluid spills
Makes the job so much easier for the person doing the clean up
Sizes Available
1.5 L (0.06 cu ft) bag
1 L (1 quart) jug
4 L (1 gallon) jug


How does it work?
ORGANIC FLUID SOLIDIFIER captures and encapsulates all types of body fluids. To improve the absorption and encapsulation rate, a Super Absorbent Polymer (SAP) has been added. All-natural PLANT EXTRACTS are added to the formula to reduce offensive odors.
Note: Must be activated with water to activate the SAP.
Is it safe?
We ensure that the products we make do not contain synthetic fragrances, dyes, ammonia or chlorine. This product is made from pure renewable, patented plant extract ingredients, and satisfies the parameters set in the USA environmental protection agency (EPA) TCLP (Toxicity Characteristics leaching procedure - method ASTM D2974) and the LRT (liquid release test EPA method 9096) Paint filter Test EPA Method (9095).
The Thyme oil treatment is EcoLogo ECP05029 (CCD -146), assists in cleaning contamination on hard surfaces in commercial, residential and medical applications.
This product is a non WHMIS controlled product.
Unused product can be disposed of in landfill, but if used to absorb body fluid, should be disposed of based on your municipal regulations.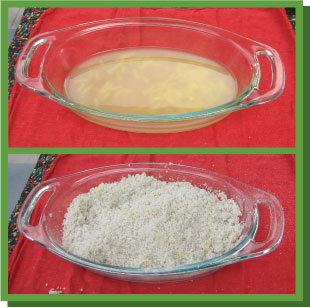 © 2014 Golden Environmental Products Inc. All rights reserved.